CODI License agreement and GDPR compliance

At ONI, we are working on official documentation (
GDPR compliance) that will be available within the year. Public datasets on CODI are published under the
Creative Commons Attribution-ShareAlike 4.0 license
. CODI, including its design, source code, analysis tools, and other associated material is protected under Copyright.
CODI is a cloud platform using a secure database hosted with Google Cloud Platform (located in Belgium).

Users can upload their dataset to the platform for organization, visualization and analysis purposes. Internet access is required to be able to use the platform. Data can be uploaded as public, Private or Shared (Private by default). Private data cannot be viewed by anyone it is not shared with through the platform.

Users who sign up to CODI are only required to provide the minimal amount of personal information: name and email address, collected for authentication to the CODI platform. It is also possible to authenticate through Google, in which case we source the data from the user's Google account. No personal data is transferred to third parties.

How to access Tutorial on CODI ?

Follow our step by step tutorial mode to guide you through our new CODI feature. To launch the different tutorials, go on the "help" menu and click on the "car" icon, select your tutorial and the tour should start (see .gif below). Note that for now, only the collaboration tour is available, but more features and tutorials are coming !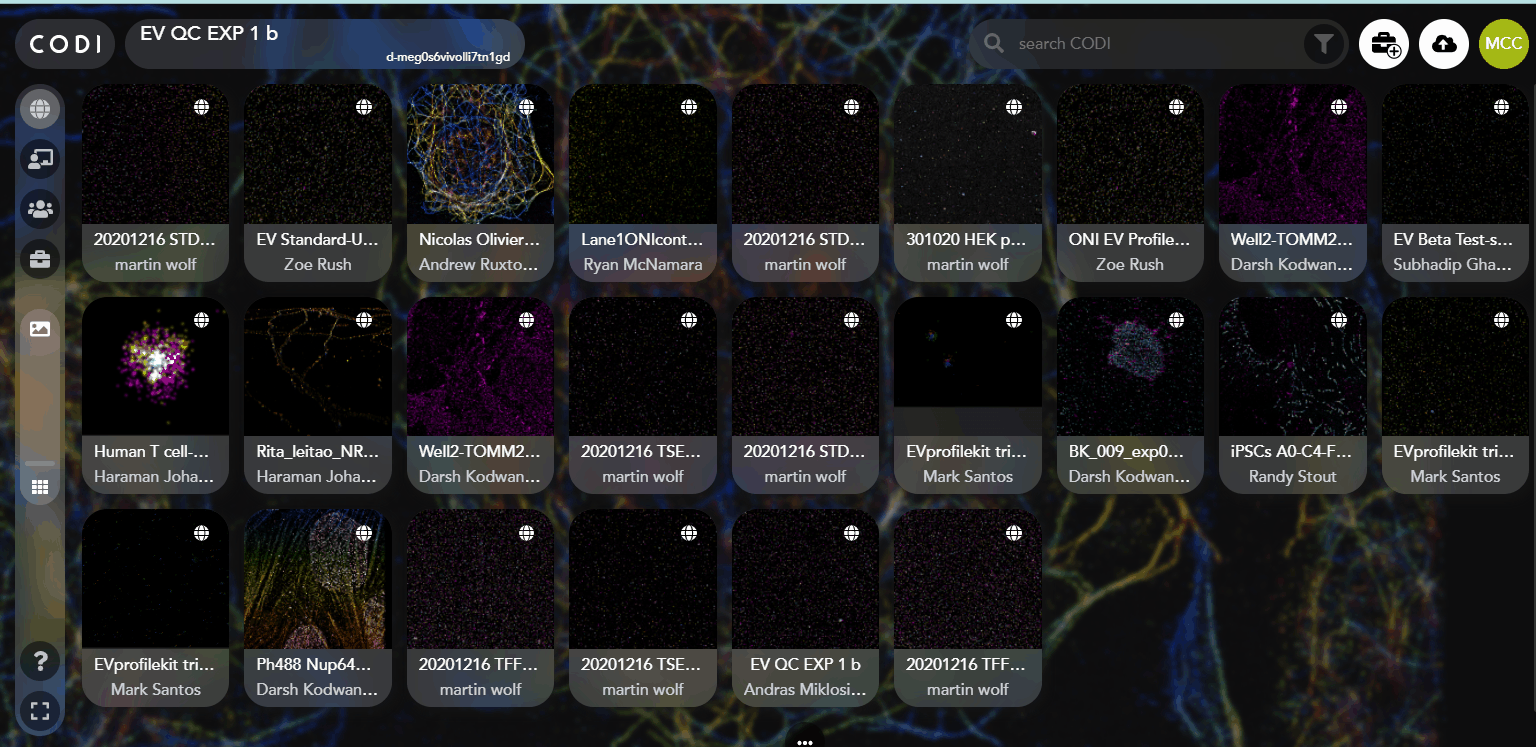 How to organize your data in CODI ?

Organization
Using our tool "
Collaborations
'' you will be able to organize, share and structure your super-resolution data inside CODI. (
How to guide: How to share and organize your data
). Single
tags
or
key-value tags
can be applied to every dataset uploaded onto CODI. Using tags, you will be able to organize your data within your personal or shared dataset or more specifically inside your Collaborations.
Sharing

On CODI, uploaded datasets can be defined as Private, Public or Shared. By default, uploaded datasets are set private, and private datasets cannot be viewed or analyzed by anyone it is not "shared" with through the platform. Users have access to other user datasets only if they are public or shared specifically with them. Public datasets are available to anyone owning a CODI user account and exposed in the main gallery. Public datasets give the opportunity to users from the world to access its visualization and analysis.

Upload and download

Dataset Sharing and Permissions

Sharing dataset on CODI, gives different levels of permissions: Viewer, Analyst and Owner. Permissions are decided at the Collaboration and dataset level. On schemas below, you can find a resume of actions allowed or not depending on the ownership type at Datasets or Collaborations level.

It is not possible to revoke permissions for a single dataset if they are granted by the Collaboration without removing the dataset from the Collaboration. All datasets added to a Collaboration have at least the permissions associated with the Collaboration but the owners of the dataset or Collaboration may add further permissions. (i.e., you can share a dataset to someone who does not have Collaboration permissions).

Data storage limitation

There is currently no limitation on the size of data uploaded and the amount of data stored per user account. Note that users don't have to upload the raw .tiff images to be able to visualize and analyze their point-cloud data on CODI.

How to report a bug, request features and submit a question ?

You can report a bug and request features from the CODI platform directly. From the help menu, i.e the "question mark" button at the bottom-left hand corner of CODI, you can access the CODI help-center to submit and request your bugs and features (see screenshot below).


How to register for the CODI service desk?

To
register
for the CODI service desk, all that is required is your name and email address. Once you sign-up, a member of Customer Success team will verify your account.